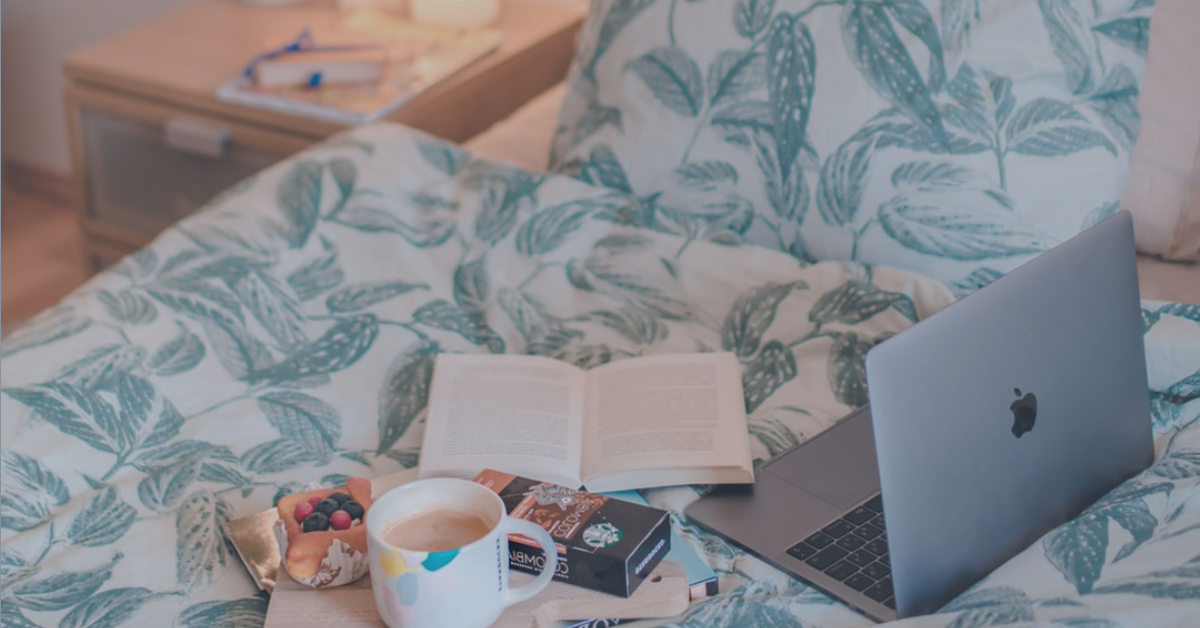 The Centre for Scholarly Communication has put together the following article and video to support you while you work from home.

Tips for Navigating Working at Home.
Have you been experiencing some pressure to "make the most of this time"? If this kind of thinking works for you, great! But it can also be damaging to your productivity and wellbeing. Check-in with yourself on how much you can work before your mental health is at risk.
Consider using these three strategies to help you build structure and productivity while you are working from home:
Establish your ideal productive time.
Schedule working time for when you are at your best and schedule relaxing time for when work would not be productive. If you're constantly working, you'll experience burnout. If you are avoiding work, start with small, scheduled chunks of work time. Taking the time to find a schedule that works for you will take a bit of adjustment, but I can assure you it will be worth it.
Find non-distracting comfort.
Have you ever been frustrated with the temperature of your office? You're now the boss of the thermostat! Create a comfortable, but a non-distracting workspace. Close doors, prepare favourite beverages, and find a comfortable chair.
Take advantage of your surroundings.
Without commute time, you may have time to go for a walk at lunch, wake up slowly with a cup of coffee or tea, or take frequent stretch breaks. Find ways to build movement into your day. Taking mindfulness breaks using apps like Calm or Insight Timer can also be helpful.
Tips for Writing at Home.
Once you have your most productive time and space figured out, consider the following tips to boost your writing productivity: 
Getting started.
Give yourself time to free write. Ignore grammar, structure, and flow. Try to get your thoughts down on paper without judgment. You can always go back and edit once you have something written.
Staying Motivated.
Don't feel that you must write your paper from start to finish; work on the sections you have ideas for as they come. Consider setting small word limit goals, or try writing in a different modality (dictation, notes app on your phone, handwriting).
Before editing or revising.
Try to step away from your work for at least an hour for a fresh perspective. Try reading your paper out loud to yourself to better hear awkward phrases.
Zoom calls giving you the ZzZz's?
As meetings have become virtual, you may be spending more time in front of your computer. Studies show that blue light from screens (computers, phones, TVs) can impact your sleep cycles (Chellappa et al., 2013). Your increased screen time may be affecting your overall sleep quality. This may be one reason why you could be feeling more fatigued than usual.  Moreover, research suggests that even a delay of 1.2 seconds can lead to more negative experiences and negative evaluations of those who you are chatting with (Schoenenberg et al., 2014). If possible, opt to take some meetings over the phone or utilize a blue light blocking app such as Caffeine or Flux.
Seek Support.
Reach out to colleagues, friends, and family. It's likely that many people you know are feeling similar to you. Establishing a connection, breaking up the day, and connecting with others can foster social connections to keep you moving forward.
In closing, the Centre for Scholarly Communication (CSC) can help you with any stage of the writing or research process, so please book a one-on-one consultation, join an online writing community, or register for one of our workshops.  Visit us here https://library.ok.ubc.ca/research/csc/.
References
Chellappa, S. L., Steiner, R., Oelhafen, P., Lang, D., Götz, T., Krebs, J., & Cajochen, C. (2013). Acute exposure to evening blue‐enriched light impacts on human sleep. Journal of Sleep Research, 22(5), 573-580. https://doi.org/10.1111/jsr.12050
Schoenenberg, K., Raake, A., & Koeppe, J. (2014). Why are you so slow?–Misattribution of transmission delay to attributes of the conversation partner at the far-end. International Journal of Human-Computer Studies, 72(5), 477-487. https://doi.org/10.1016/j.ijhcs.2014.02.004