Brianne Christensen and Matthew McConnachie will be taking their studies abroad with the help of the Michael Smith Foreign Study Supplements. The Michael Smith Foreign Study Supplement supports high-calibre Canadian graduate students by providing up to $6,000 in funding to offset research costs outside of Canada. The award aims to support graduate students in building global linkages and international networks while accessing international scientific training. A total of 250 awards are available each year.
Brianne Christensen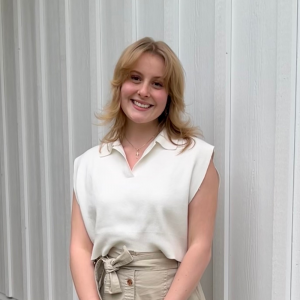 Brianne is a second-year graduate student in the Master of Arts in English program. Supervised by Dr. Jennifer Gustar, Brianne's research explores the potential of narrative – literary and other forms – to provide means for the recognition of strangers as inherently worthy of welcome. Aside from narratology, Brianne is interested in hospitality studies, diaspora literature, museum studies, and women's writing.
"My work is driven by an overarching commitment to ethical encounters, both inside and outside the literary text," says Christensen.
Brianne's MA thesis turns to British writer Ali Smith's Seasonal Quartet to explore fiction's potential for eliciting ethical, affective responses and to enact fundamental change in the way that the host nation, as well as migrants and strangers, are perceived in the home as the domicile, the community, and the nation-state.
Brianne plans to use her award to support three months of research at the University of Exeter in England. Supervised in London by Dr. Natalie Pollard, a specialist in hospitality studies and ethics, as well as a scholar of Ali Smith's novels, Brianne will undertake site research at various museums and connect with the Routes Network, an active interdisciplinary network housed at the University of Exeter.
"The research I will undertake abroad will strengthen and advance my thesis's argument that Smith's narrative technique and connective authorial persona throughout the quartet memorialize the ethics of migrant reception and illustrate the cost of populism in order to humanize the stranger through a call to readerly reciprocity that collapses conventions of narrative distance.
Matthew McConnachie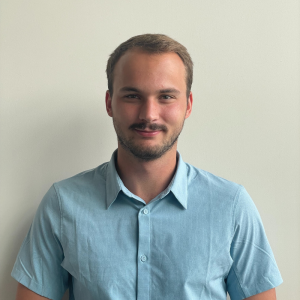 Matthew is a second-year graduate student in the Master of Science in Chemistry program. Supervised by Dr. Thu-Thuy Dang, Matthew's research involves the discovery of enzymes responsible for the biosynthesis of medicinal compounds in plants.
Matthew uses a multidisciplinary approach combining metabolomic, genomic, chemical, and biochemical techniques to investigate the biosynthesis of camptothecin, a potent anticancer drug precursor, produced by the tree Camptheca accuminata.
"My research excites me because I am working on cutting-edge approaches to elucidate enzymes responsible for the synthesis of critical anticancer drugs," says McConnachie. "My work will increase our understanding of phytochemical biosynthesis while improving access and reducing costs of anticancer drugs."
Matthew plans to use the award to support four months of study supervised by Dr. Jakob Franke at Leibniz University Hanover in Germany. Using both traditional synthetic chemistry and chemoenzymatic approaches, Matthew plans to synthesize intermediates in the camptothecin biosynthetic pathway for enzymatic screening as well as create new to nature compounds which may have unique pharmacological activity.
"This research will allow us to create advanced intermediates in the camptothecin biosynthetic pathway which will allow us to greatly expand our understanding of the enzymes involved. It will also create the opportunity to expand the chemical space of this class of compounds," says McConnachie.