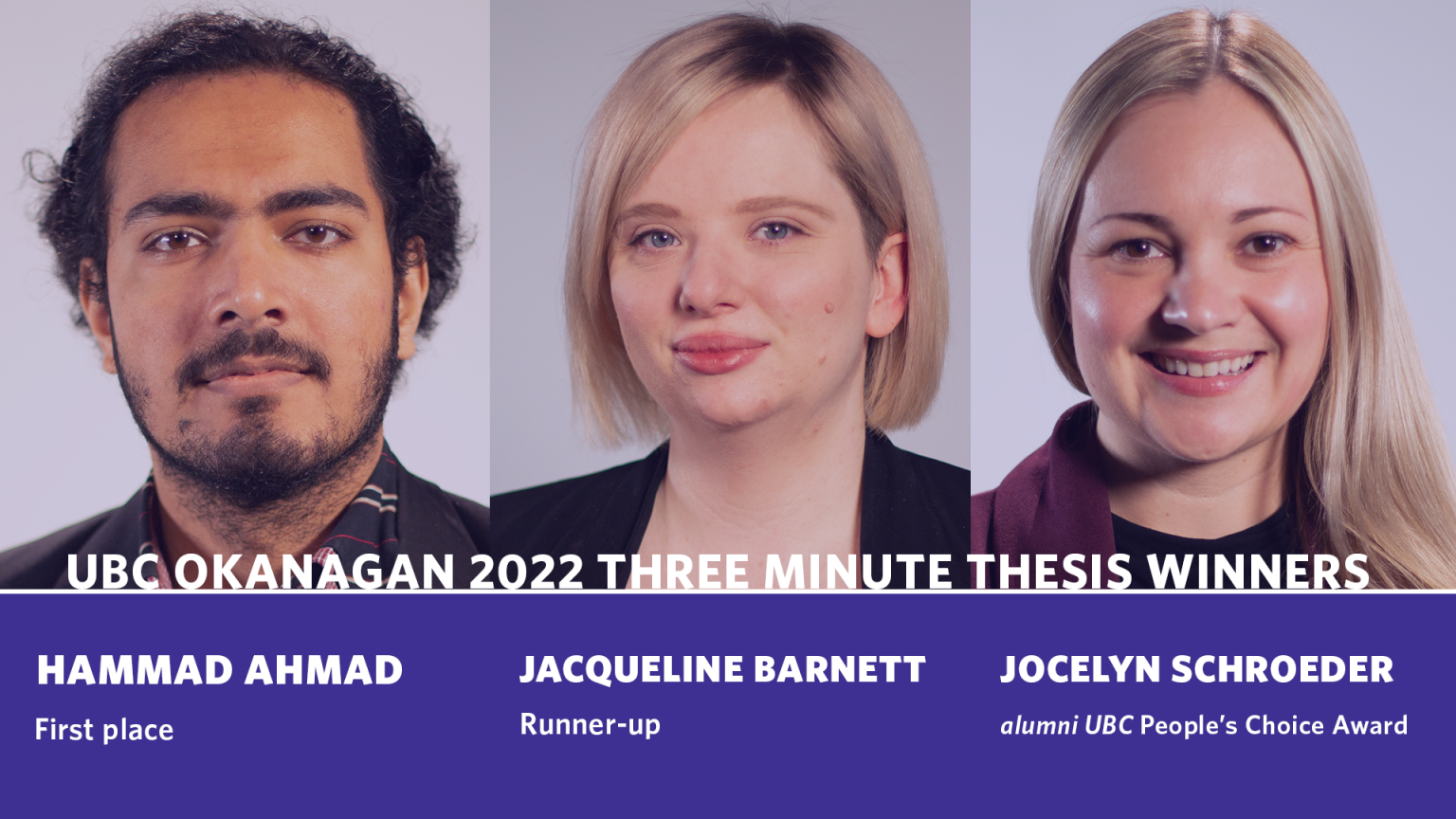 Go green or go home; that was the message that secured PhD student Hammad Ahmad the top spot at the ninth annual UBC Okanagan Three Minute Thesis (3MT) competition.
For his presentation, Hammad spoke about the use of biocomposites as sustainable construction materials. Ahmad, a PhD student in Civil Engineering, captivated judges with his audience engagement and passion for this important topic. As the winner of the competition, Ahmad took home the top prize of $3,000 and will represent UBC Okanagan at the Western Regional Three Minute Thesis Competition at the University of Winnipeg on May 6, 2022.
"I participated last year and wasn't able to win. So I thought I'd give it another try," says Ahmad.  "No person from Engineering has ever won this competition at UBC Okanagan so I feel extremely proud. A special thank you to the wonderful judges, all of the other brilliant participants, and my supervisor and committee."
Jacqueline Barnett, PhD student in the Department of Biochemistry and Molecular Biology, was awarded second place and $2,000 for her presentation, 'You are what your great-grandparents eat', a presentation focused on her research into the impact dietary levels of Roundup® are having on our gut microbiome and behaviour across generations.
"I'm grateful to the audience for coming out and hearing these talks today and to my supervisor Deanna Gibson," says Barnett. "Dr. Gibson and all of my labmates have played such an important role in helping me get here."
While it was Ahmad and Barnett that captured the eye of the judges, Joceyln Schroeder captivated the judges with her emotional presentation on nursing students' attitudes towards and willingness to participate in the Medical Assistance in Dying (MAiD) program in Canada. Schroeder is a master's student in Nursing.
"I feel so honoured to be here with all of these intelligent minds and the great conversation we had today," says Houghton. "Thank you so much to my supervisor Dr. Barb Pesut and my research committee as well as my family, husband, and friends who joined the event."
Dr. Lisa Tobber with the School of Engineering kicked off the event with her presentation titled "Taller, greener, and stronger: Engineering resilient cities." The presentation highlighted some of the exciting research conducted at UBC Okanagan to develop strong and sustainable tall buildings to enhance the resiliency of growing cities.
Overall, seven graduate students took the virtual stage to share their research presentations and each one of them engaged the audience and addressed some of our world's greatest challenges. The judges agreed that scoring the presentations and choosing a winner was an extremely difficult task. You can learn more about the graduate student presenters and watch each of their presentations below.
Leslie Shayer

Leslie Shayer is a student in the Doctor of Philosophy (PhD) in the Interdisciplinary Graduate Studies program. Supervised by Dr. Karen Ragoonaden, Leslie's research focuses on the impact of contemplative pedagogy on math anxiety at the post-secondary. Leslie has been a Professor of Mathematics and Statistics at Okanagan College, Kelowna Campus since 2006.

Hammad Ahmad

Hammad Ahmad is a student in the Doctor of Philosophy (PhD) in Civil Engineering program. Supervised by Rehan Sadiq, Hammad's research focuses on life cycle assessment (LCA) of natural fibre-based biocomposites for sustainable construction. Hammad hopes his research will contribute significantly toward the protection of our planet's ecosystem.

*Hammad's presentation will not be publicly available until after the Western Regional 3MT Finals.

Maya pilin

Maya Pilin is a student in the Doctor of Philosophy (PhD) in Psychological Science program. Supervised by Dr. Marvin Krank, Maya's research focuses on young adults' thoughts and feelings about alcohol use. Specifically, Maya studies whether individuals can accurately predict how drinking will make them feel and whether they can later accurately remember these feelings.

JOCELYN SCHROEDER

Jocelyn Schroeder is a student in the Master of Science in Nursing program. Supervised by Dr. Barb Pesut, Jocelyn's research involved the development of a survey to examine Canadian nursing students' attitudes toward and willingness to participate in Canada's Medical Assistance in Dying program (MAID).

sTEF ASHTON

Stephanie Ashton is a student in the Doctor of Philosophy (PhD) in Kinesiology program. Supervised by Dr. Paul van Donkelaar, Stephanie's research aims to improve RCMP responses to intimate partner violence (IPV) through the use of virtual reality training. With a 25 year career in policing, Stephanie has been devoted to championing issues related to gender-based violence and women in policing.

Jacqueline BARNETT

Jacqueline Barnett is a student in the Doctor of Philosophy (PhD) in Biochemistry and Molecular Biology program. Supervised by Dr. Deanna Gibson, Jacqueline's research aims to understand what, if any, impact dietary levels of Roundup® are having on our gut microbiome and behaviour across generations.

SHIRLEY yang

Shirley Yang is a student in the Master of Science in Biology program. Supervised by Dr. Andis Klegeris and Dr. Julien Gibon, Shirley's research focuses on the physiological roles of intercellular signalling molecules on glial cells in neurodegenerative diseases. Shirley hopes her research can provide a fundamental mechanism to discover new treatments for Alzheimer's disease.