Back and better than ever – UBC Okanagan celebrates ten years of 3MT
On April 5, 2023, 11 graduate students from diverse disciplines will take centre stage at the Mary Irwin Theatre to compete for their share of $6,000 in prize money. Their challenge? To captivate you and the panel of judges while explaining their master's or PhD research in just three minutes.
Join us for an exhilarating competition and learn about the exciting graduate research happening in the Okanagan.
---
FEATURED SPEAKER
DR. SAKIRU ADEBAYO l Memory Frictions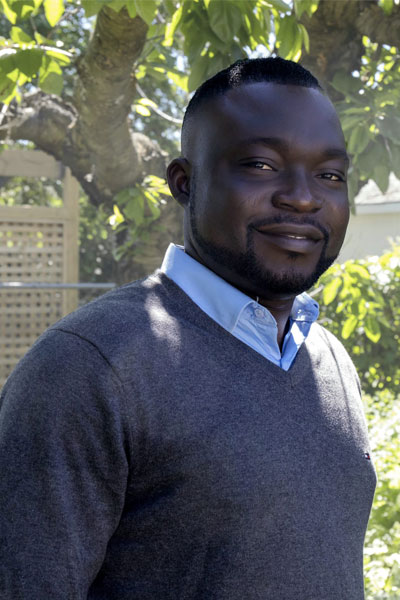 Dr. Sakiru Adebayo will kick off this year's event as the featured speaker with his talk titled Frictions of Memory. Frictions of Memory draws from his forthcoming monograph of the same title. In this talk, Dr. Adebayo examines how fiction deals with or, in some cases, becomes the source of memory friction in post-conflict societies. In the face of traumatic silences, archival elusiveness, official censorship, and mnemocide, Dr. Adebayo asks: how does fiction keep the contentious pasts alive? He investigates what happens when conflicting memories collide within the imaginative space of fiction. He brings together insights from memory studies and literary studies in order to examine how the past is constructed, confronted and contested in post-conflict situations. Ultimately, Dr. Adebayo's talk explores the ways in which fictions of memory recalibrate discourses of futurity, solidarity, responsibility, justice, survival, and reconciliation in post-conflict societies
ABOUT DR. Adebayo
Dr. Sakiru Adebayo is an Assistant Professor in the department of English and Cultural Studies at UBC Okanagan. Last year, he was awarded the Nigeria Prize for Literary Criticism.
Dr. Adebayo's research is in the area of African and African diaspora literature, postcolonial studies, and trauma and memory studies.
---
2023 FINALISTS
Nibirh Jawad

program: PhD in Electrical Engineering
supervisor: Dr. Loïc Markley

Wi-Fi  Blocking Wallpaper
Nibirh's research is in the field of applied electromagnetics. His research involves engineering materials that cause electromagnetic waves to reflect off or transmit through them differently than in naturally obtained materials.


Zerrin Akter Anni

program: mA in interdisciplinary graduate studies
supervisor: Dr. Deana Simonetto

The portrayal of Violence Against Women in Bangladesh News Media: Seeing it through Rumana Manzur's case
Seeing through the case of Rumana Manzur, Zerrin's qualitative research uncovers the complex relationship between media and violence against women in the context of Bangladesh. The objective of her research is to find out how the popular news media of Bangladesh responds to the issue of violence against women and represents the victims of such violence in a certain way.

Shariff Faleel

program: PhD in computer science
supervisor: Dr. Pourang Irani

Hand as a Phone
Shariff's research focuses on improving the interactions in Mixed Reality systems. Through his research, he aspires to create mobile computing platforms that would improve and augment human experiences.

Leah D'Aloisio

program: msC in BIOLOGY
supervisor: Dr. Deanna Gibson

I Need Your Poop
Leah's research aims to understand how immigration to Canada influences the human gut microbiome. Specifically, she's focused on Indian populations living in Canada because their demographic is more at risk for developing inflammatory bowel disease (IBD) once living in a westernized country. Since the gut microbiome is heavily involved with IBD, her main objective is to characterize the gut microbiome in Indians, Indian immigrants and Indo-Canadians in the hopes of identifying clues to understand the underlying mechanisms involved with their elevated disease risk.

Alanna Shwed

program: PhD in kinesiology
supervisor: Dr. heather gainforth

Is the research system broken?
Alanna's research involves working alongside a spinal cord injury research organization to support an increase in the quantity and quality of research partnerships.

Rita Lam

program: MASC IN MECHANICAL ENGINEERING
supervisor: Dr. Sepideh Pakpour

Shining light to a healthy building: indoor daylight and indoor microbiome
Rita's research aims to understand the interactions between two healthy building foundations: indoor daylight and indoor microbiome. Specifically, she studies the effect of indoor daylight through a newly developed electrochromic smart window on the microbiome within the building. The results of her study can provide important insights for future healthy building design and infectious disease control in all built environments.

Quinn Malone

program: PhD in kinesiology
supervisor: Dr. Chris McNeil & Dr. Brian Dalton

High-and-mighty or dazed-and-confused? How acute cannabis intoxication affects our motor function
Cannabis is an effective treatment for a variety of conditions, including chronic pain, epilepsy, Parkinson's disease, and others. However, the functional consequences associated with acute cannabis intoxication are poorly characterized. This presents a major concern as health professionals may be hesitant to recommend, and individuals may be reluctant to use, cannabis if resulting functional deficits are unknown. Quinn's research explores how acute cannabis use impacts functional motor behaviours and the underlying mechanisms to lay a foundation for further work in developing cannabis products and effective medicines.

Kirstin Pulles

program: Ma in interdisciplinary graduate studies
supervisor: Dr. Jon Corbett & Dr. Mary Stockdale

The role of unions in climate activism
Many academics have theorized that unions will be key players in climate change advocacy. However, there are few case studies which explore how union and community partnerships can develop. Public transportation may be a climate issue that can build broad advocacy movements which include both transit unions and community members. Kirstin helped to launch a campaign for better transit in Kelowna which is co-led by Fridays for Future Kelowna and ATU Local 1722. She is a participatory activist researcher studying the campaign while also helping to lead it.

Miriam Cummings

program: MFA IN Interdisciplinary Studies, Performance & Creative Writing
supervisor: denise kenney

Building inner abundance through live participatory performance
Miriam Cummings is an interdisciplinary artist whose poetry, playwriting, and performance examine intimacy, loss, and motion through the world: how we move and what moves us. Miriam co-founded Hopegrown Productions and has developed four new plays, including her award-winning solo show: The One. Miriam began an MFA in Interdisciplinary Studies at UBCO in Fall 2022. Her thesis is a research-creation project that will take the form of a live, participatory performance.

In this project, audience participation will take the form of gentle, clear, invitations. The performance will be designed to engage the audience in tangible, repeatable skills that they can take away into their lives following the performance, such as somatic (mind-body) listening, the confidence to speak, and perspective shifting. Miriam's research builds politically radical, participatory postmodern theatre practices by weaving audience responses into the performance. Simple, open-ended questions and prompts will guide the audience through somatic exercises that reveal internal richness and lead to engaged theatrical moments.

Clara Letef

program: MSC in Biochemistry and Molecular Biology
supervisor: Dr. Sanjoy Ghosh

Have you heard of vegetable oil?
The Western diet has become increasingly rich with vegetable oils, which primarily contain omega-6 fats. The surplus of these omega-6 fats in our diet (as compared to a balanced omega 3 fat to 6 ratio) may have negative impacts in terms of inflammation in the heart. Clara's research focuses on how this high omega-6 diet impacts cellular and physiological functioning in the heart, and how we can avoid chronic inflammation which may lead to cardiovascular disease, cardiac fibrosis, and other negative health outcomes.

Nasim Hajati

program: Master of Applied Science in Electrical Engineering
supervisor: Dr. Rudolf Seethaler

Automated Negative Pressure Chamber to Test Heart Performance Factors on Rats
Nasim's research involves building an automated lower-body negative pressure chamber to control blood pressure in the heart of rats. This chamber allows scientists to test new medications on rats for heart performance factors in a non-invasive manner. She is hoping that with this method, we could achieve higher test result accuracy with minimal damage to the rat.